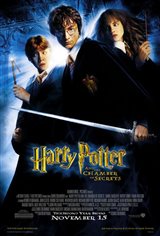 Harry Potter and the Chamber of Secrets
333 Reviews
|
Write a Review
In Theaters: November 15, 2002
4.43/5
Based on 74346 votes and 333 reviews.
83.01%

2.81%

0.87%

1.02%

12.29%
Please rate between 1 to 5 stars
Showing 1-10 of 333 reviews
February 3, 2011
just as good as the first!
November 20, 2010
BY FAR, THE BEST HARRY POTTER SERIES. THE SECOND ONE WAS JUST SOMTHING ELSE. IT WAS AMAAAAAAAAAAAAAAAAAAAZING. THE BEST ONE IN MY OPINION. I LOVE ALL OF THE MOVIES THOUGH ESPECIALLY THIS ONE.
February 3, 2008
Loved It! 4 stars.
July 10, 2007
Why they needed 160 minutes to tell such an inconsequential story confounds all reason...
July 1, 2007
Another awful Harry Potter movie.
June 3, 2007
I loved this movie. Specially Dobby,he was halarious. lmao
April 12, 2007
ALL HARRY POTTER MOVIES ARE THE BEST MOVIES EVER!!!!!!!!!!!!!!!!
October 12, 2006
Like the first one, this book is not long. So the film turned out well. The adventures are even more fun than the first one.
March 25, 2006
ok if u havent watches harry``s movies u r missing out on more then nu can expect this movie was perfect just the right amoiunt of mystery magic and fnny
December 3, 2005
Harry potter et la chambre des secrets est génial ! mais pas autant que le troisième ou le quatrième opus ! harry potter and the chamber of secrets is fantastic ! best the best opus isn`t it !! it`s the fourth or the third !!!