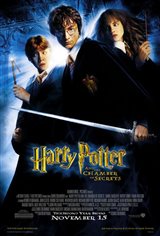 Harry Potter and the Chamber of Secrets
333 Reviews
|
Write a Review
In Theaters: November 15, 2002
4.43/5
Based on 74346 votes and 333 reviews.
83.01%

2.81%

0.87%

1.02%

12.29%
Please rate between 1 to 5 stars
Showing 51-60 of 333 reviews
April 9, 2003
definitely one of the best movies this year. Its a shame that it got snubbed at the awards. It was fantastic.
March 18, 2003
Excellent entertainment! Even better than the first one. This movie deserves an Oscar. I`ve seen it several times already and am looking forward to the release on video so I can add it to my collection.
March 17, 2003
I think it was the best movie I have ever seen in my hole life. The movies keep geting better and better. And I love it!
March 14, 2003
Definitely one of the best movies of all time!!!
March 12, 2003
it was a great movie. so much better than the first. i can`t wait for the third.
March 12, 2003
I loved it. Defenitly if you`re a Harry Potter fan go and see it as soon as you can. More special effects are included in this movie. Better than the first one.
March 11, 2003
I had to go to the washroom twenty minutes into the movie, but it was so good, that I couldn`t leave!
February 22, 2003
It was one of the best movies I`ve ever seen and I can`t wait until the next will come out.
February 21, 2003
It was the greatest movie I have ever seen I really really loved daniel though
February 21, 2003
It was the greatest movie I have ever seen I really really loved daniel though