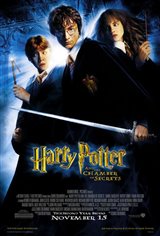 Harry Potter and the Chamber of Secrets
333 Reviews
|
Write a Review
In Theaters: November 15, 2002
4.43/5
Based on 74346 votes and 333 reviews.
83.01%

2.81%

0.87%

1.02%

12.29%
Please rate between 1 to 5 stars
Showing 41-50 of 333 reviews
August 13, 2003
THIS MOVIE ROCKS! I can`t wait for the third movie because it`s my second favorite because the firth book is my favorite. I own the first and the second and my best friend is a really big fan. She has Harry Potter games, p.j`s, toothbrush, lotion, etc.
August 6, 2003
it was good
July 12, 2003
I LOVE HARRY POTTER!!!!!!!!!
June 28, 2003
It was the best movie that I have seen in a while!
April 28, 2003
It was the best move ive seen since Ice Age
April 21, 2003
All I have to say is GENIUS!
April 18, 2003
Wow What a beautiful adventerous movie ever this is the best I have ever seen I can`t wait to see the 3rd Harry Potter Movie Warner Bros Pictures have made a well movie Good Work. Recommended to see
April 13, 2003
i really liked it but when they say that Hagtrit open the chamber 50 years ago then right now he would have to be 66 in the movie but he doesnt look 66 in real lilf!!!!!!!!!!!!!!!!!!!!!!!!!!!!!!!!!!!!!!
April 11, 2003
It`s the BEST movie of all time! The 3rd might be better but we`ll have to wait and see!
April 9, 2003
It was cool exept I think they should make quitadge or what ever its called longer