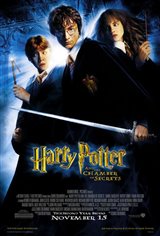 Harry Potter and the Chamber of Secrets
4.43/5
Based on 74346 votes and 333 reviews.
Please rate between 1 to 5 stars
Showing 11-20 of 333 reviews
November 11, 2005
I loved Harry Potter and the Chamber of Secrets=) it was very awesomely made! But mostly i loved the fact that Rupert Grint stared in it!=) i Love s2<3 Harry Potter!
August 22, 2005
Very funny, especially Rupert Grint`s acting in the scene with Aragog (the giant spider). Some of it was a bit scary, but no more than the book was. Kenneth Branagh was fabulous (as always), and he seemed to be the perfect choice for Gilderoy Lockhart. However, the only thing that stopped me from giving this a perfect five-star rating were these two items: 1) Rupert Grint seemed on the verge of tears every five seconds, and 2) Alan Rickman (whom I love dearly) made Snape a bit too amusing. Not that it`s a bad thing, just... it wasn`t right for the character. But all in all, it was a spectacular movie.
June 11, 2005
about Harry Potter IT IS AWSOME!!!!!!!!!!!!!!!!!!!!!!!!!!!!!!!!!!!!!!!!!!!!!!!!!!!!!!!!!!!!! EVEN THE FIRST ABD 3RD MOVIES!!!!!!!!!!! I CAN`T WAIT TILL THE 4TH MOVIE COMES OUT!!!!!
June 7, 2005
I loved this movie it is soooooooooo much better than the 3rd one. the special effects were amazing, especially the basilisk
June 7, 2005
No matter what, ALL the Harry Potter films and books will ALWAYS rock, because Harry Potter/Daniel Radcliffe is THE ULTIMATE, ALL-TIME HOTTEST guy in the UNIVERSE!!!!!!!!! He is soooooooo SEXY! Also, because he`s so hot, he`s my Prince Charming! Lastly, Emma Watson, Rupert Grint, and most of all,Dan Radcliffe, all the BEST teen actors/actress out there...in the galaxy!!!! I love you Dan!
May 8, 2005
It was good, i like the frist and third film better though and i am very excited about number 4!!! The effects in number 2 are good!
March 26, 2005
DANIELS HOT!
February 15, 2005
loved it!
January 27, 2005
its very cooooooool!!!!!!!!!!and his neat beautifull
December 5, 2004
Very good adaptation of the book.