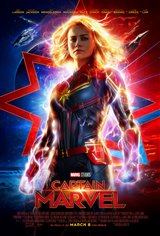 Captain Marvel
| 374 Reviews
Write a Review
In Theaters: March 7, 2019
On DVD/Blu-ray: June 11, 2019
2.28/5
Based on 2590 votes and 374 reviews.
Please rate between 1 to 5 stars
Showing 31-40 of 374 reviews
May 9, 2019
Excellent story, well acted (don't pay attention to the reviewers who hate her politics) and answered a lot of questions about Fury.
May 8, 2019
This movie was the power trip that I've been waiting for since I was a kid. Female super hero movies are very FEW and far between and honestly this one is the best one. The action was on point and I felt a surge of Joy seeing Brie Larson Punch bad guys. Captain Marvel Felt like a Female character from Dragon Ball Z. Charging up to saving the day A lot of things said to her character. I also notice people hating the movie for the sake of hating it. If they saw the movie they gave it the money for it to succeed so I find it funny because most of the 1 star reviews are rather weak and it says something about what they may be truly upset about. See the movie for yourself and be your own judge. It's been a long time coming and I can't wait for the sequel.
May 6, 2019
Brie Larson, is very miscast in this role.
May 6, 2019
Pretty average, save your self a few bucks and rent it from redbox. No need to see it before Endgame.
May 4, 2019
Awesome lead actor great script
May 4, 2019
Fantastic and fun movie. I've seen only a handful of the Marvel movies so far, but this (and Endgame) have inspired me to see the rest. Great work by Samuel Jackson (of course), and I thought Brie Larson was perfect casting! I even came back to see it again just a week after the first time.
May 4, 2019
I liked how Nick Fury annoyed the cat. Haha! I know that's a silly reason but that part made me laugh.
May 3, 2019
I just really like Brie Larson or I would not have seen it. But this was a great movie with lots of special effects, 90's nostalgia and wall-to-wall celebrities. Reminded me a lot of Star Trek The Voyage Home.
May 3, 2019
Worth seeing, family loved it
May 3, 2019
Xcellent Movie...enjoy