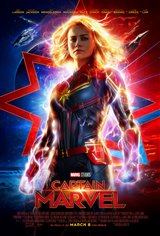 Captain Marvel
| 374 Reviews
Write a Review
In Theaters: March 7, 2019
On DVD/Blu-ray: June 11, 2019
2.28/5
Based on 2590 votes and 374 reviews.
Please rate between 1 to 5 stars
Showing 11-20 of 374 reviews
June 19, 2019
How can a superhero movie be boring? Cast a lightweight, opinionated woman with little skill and make the movie preachy. Easy peasy. Skip this one. If you thought Green Lantern was bad, or that the Fantastic Four was bad, then this one is up[ for the Raspberry award.
June 18, 2019
YES, 5 STARS FOR ACTION & MORE ACTION A GOOD PLOT. THIS WAS MY 2ND MOVIE & I LIKED IT. THE 1ST MOVIE, I SLEPT RIGHT THROUGH, THE ENTIRE MIDDLE OF THE MOVIE. FOLKS, THIS WAS ONE VERY, COMPLICATED & CHALLENGING MOVIE. THE ROLE OF THIS SUPERHERO WOMAN, WITH MEMORY & HEAD DAMAGES, WAS NOT EASY. IT DEFINITELY, REMINDED ME OF, THE SAME PROBLEMS, IN ACTUAL MILITARY COMBAT & SUFFERING FROM REAL HEAD INJURIES. THE DIRECTOR REALLY DID, KEEP US ON OUR TOES, AS WE WERE TRYING TO FOLLOW ALONG WITH THE PLOT & THEME OF THIS MOVIE. IT TURNS OUT, THE GOOD GUYS WERE NOT GOOD GUYS, BUT, WERE REALLY THE BAD GUYS.!! THE BAD GUYS WERE NOT BAD, THEY WERE JUST GOOD FOLKS, WANTING TO BE WITH THEIR FAMILIES. BRIE LARSON WAS MAYBE, A LITTLE BIT, TOO SERIOUS AT TIMES, IN THIS MOVIE AS A SUPERHERO.!! BRIE WAS ALWAYS BATTLING & FIGHTING ON & ON.!! IT WAS A VERY HARD MOVIE, FOR A SUPERHERO LADY, BECAUSE, SHE WAS TRYING TO FIND HERSELF MENTALLY & TO DEAL WITH ALL THE HEAVY ACTION SHOTS IN THIS, VERY BUSY MOVING STORY. BRIE LARSON WAS NO TOO PLASTIC OR TO TOO, HARD. BRIE WAS JUST TRYING TO COME ACROSS, AS A STRONG WOMAN WITH SUPERPOWERS & YES, SHE SURE DID A GOOD JOB, STANDING UP AGAINST, THE PROPER, BAD GUYS FOR SURE.!! CPT SCOTT.
June 15, 2019
A few decent scenes but overall not as entertaining as I had hoped.
June 14, 2019
Super,excelente,buenísima,me encantó.
June 11, 2019
This movie is lacking the heart and soul that the other marvel movies show. It's basically captain marvel posing the whole time.... just no heart and the cheesiest of all the super hero movies.
June 3, 2019
Captain marvel is one of the best marvel movies
June 1, 2019
This was an excellent prequel to the MCU movies. Bringing Captain Marvel into the marvel mix was the perfect choice to go up against Thanos.
May 22, 2019
Nope just nope
May 22, 2019
I thought it was awesome, and yes I have a brain unlike the DB's who gave this film 1 or 2 stars... Don't like the actress and that's an issue for you, don't go see it... The real fans will go see it!
May 17, 2019
Really good throughout!