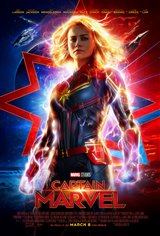 Captain Marvel
| 374 Reviews
Write a Review
In Theaters: March 7, 2019
On DVD/Blu-ray: June 11, 2019
2.28/5
Based on 2590 votes and 374 reviews.
Please rate between 1 to 5 stars
Showing 1-10 of 374 reviews
July 16, 2021
Lame. Larson is such a cold fish. She is perpetually dry. She should get together with Jessica Chastain and whip themselves into a frenzy over who's the biggest victim.
September 24, 2020
Annoying, unlikable main character who is sooo oppressed by patriarchy she´s actually a military pilot! Let this sink in. The cat is the best thing in the whole movie, even if it breaks the canon (Fury´s eye) for no reason. Brie´s "stunts" she did herself are on the level of "stunts" little children do on the playground.
February 25, 2020
Great movie
February 17, 2020
Like captain marvel looks good.
December 28, 2019
Empty story that seems absolutely forced. It's a slapstick action film masquerading as a legit comic entry. Marvel tried a bit too hard to check all of the boxes for a classic popcorn film here in a rush to introduce a new character which still has potential. The film, however, was as bad as it gets with only the most loyal of fans finding any enjoyment.
December 24, 2019
5 stars really good.
December 19, 2019
movie is good like captain marvel a lot.
December 14, 2019
Nothing new here. Flashy but empty visuals. Story was uninspired. Protagonist was a ****. Lame attempts at humour. Give this one a miss.
November 20, 2019
Brie Larson did a good job on captain marvel. the movie is good and carol is a good piolet and great super hero
July 3, 2019
Not really sure why this movie even got made, while most Marvel movies seem to link, this ones a broken link, worth a watch if your bored, other than that.