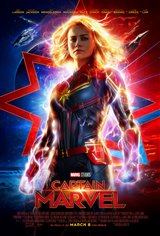 Captain Marvel
| 374 Reviews
Write a Review
In Theaters: March 7, 2019
On DVD/Blu-ray: June 11, 2019
2.28/5
Based on 2590 votes and 374 reviews.
Please rate between 1 to 5 stars
Showing 51-60 of 374 reviews
April 26, 2019
Too much feminism
April 26, 2019
I thought it was very good
April 25, 2019
I gave this movie 5 stars because it did tell the back history of Captain Marvel, how she became who she is and how she becomes involved with shield. I thought it was a proper introduction. And the action was good.
April 25, 2019
Cheesy, not a quality marvel movie. I would say it may even be worse than Black Panther.
April 25, 2019
Worst MCU movie yet.
April 24, 2019
I was fully prepared to be disappointed by Captain Marvel, but I wanted to see it before Endgame hit the screen...It far surpassed my expectations. I thought it was pretty action packed. Not any lulls or disengaging fluff, really. The story kept moving forward, it had its tongue-in-cheek moments and one-liners, a little history of SHIELD, and filled in a few things about some of the deep space races that I didn't know. Brie Larson is OK, maybe a bit plastic at times...again, if it wasn't a tie in to The Avengers, I probably would not have hurried to see it, not because I wasn't interested but really because I wasn't interested in her. She is no Scarlett Johansson as Black Widow. Still, it was a decent performance.
April 24, 2019
Larson can not act, average to look at, story was not bad, I would wait to rent it at the red box.
April 23, 2019
Our family loves this movie!
April 22, 2019
I hate this movie
April 19, 2019
How did Captain Marvel change from a man to a woman? What were the producers thinking? Her acting was terrible and very boring. Wonder Woman is the greatest female super hero ever!