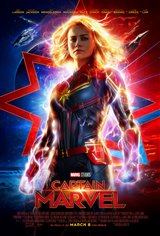 Captain Marvel
374 Reviews
|
Write a Review
In Theaters: March 7, 2019
On DVD/Blu-ray: June 11, 2019
2.28/5
Based on 2590 votes and 374 reviews.
26.34%

3.72%

2.22%

7.20%

60.52%
Please rate between 1 to 5 stars
Showing 21-30 of 374 reviews
May 16, 2019
She did her best in this movie.
May 16, 2019
The cat was the more funny characters from the movie.
May 15, 2019
The 5 star reviews on here are a joke. Go to any review site on the internet and you'll see this movie was terrible. Plot holes throughout, the lead actress can't act to save her life, no character arc, continuity issues from scene to scene. It was a complete mess from start to finish. You aren't fooling anyone troll.
May 14, 2019
I think the movie was good. Very good.
May 13, 2019
🤣. Previous post. This movie was amazing. I loved the cat's scenes. This was a science movie not a real story. Chill out and take a deep breath.
May 13, 2019
Meh, it was pretty bad, it picked up whenever the lead actress left the screen.
May 13, 2019
Wasn't as good as any of the Avengers movies. Don't see why she had to have such an important part in Endgame.When I was watching it., I didn't get as excited.
May 13, 2019
It just wasn't as good as any of the other Marvel movies, and doesn't seem fair to throw her into Endgame. Why was she in Infinity War? I think the real Avengers should have been able to handle Thanos.
May 12, 2019
I love the story telling. How she learns about herself and the world of people who support her. And the visuals. Fabulous.
May 9, 2019
Amazing movie, a total recommended watch!