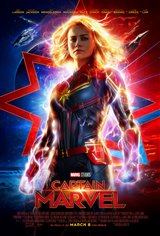 Captain Marvel
374 Reviews
|
Write a Review
In Theaters: March 7, 2019
On DVD/Blu-ray: June 11, 2019
2.28/5
Based on 2590 votes and 374 reviews.
26.34%

3.72%

2.22%

7.20%

60.52%
Please rate between 1 to 5 stars
Showing 41-50 of 374 reviews
May 3, 2019
This movie isn't the worst of the MCU, but it's definitely among them. However, if you liked Iron man 2 or 3, Thor the dark world, you'll probably like this one. It's on par with Thor 1
May 2, 2019
Thought it was an excellent movie. Really enjoyed it. Actress was good and made it believable. Again I read the reviews and the haters always surprise me.........you can't please everyone and sometimes Marvel watchers are really into criticism of story rather than enjoying the entertainment of the film. Too bad!
May 2, 2019
This movie is absolute garbage.
April 29, 2019
I am glad I watched this movie. She was in the Avengers too.
April 29, 2019
It was a very average movie, not to exciting or to dull, also the actor they chose to play Capt marvel was very, very bland. Nearly talentless.
April 29, 2019
The movie was really good, That female actress was really good looking, Now Endgame makes more sense !!
April 29, 2019
Below average.
April 28, 2019
Marvel is good at making movies, but they need to drop that dry, no talent lead.
April 27, 2019
Brie Larson is Marvel's worst choice of casting thus far. It is impossible to like her as she has zero redeeming qualities. Hoping they choose a different actress in the future, or the MCU is going to die.
April 26, 2019
Loved this movie