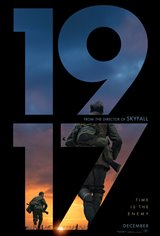 1917
| 173 Reviews
Write a Review
In Theaters: December 25, 2019
On DVD/Blu-ray: March 24, 2020
3.51/5
Based on 468 votes and 173 reviews.
Please rate between 1 to 5 stars
Showing 1-10 of 173 reviews
March 10, 2020
I liked everything about this movie.
March 9, 2020
Wonderful re-creation of the battlefields of WWI and good story, incredibly shot.
March 9, 2020
Stunning cinematography and a gripping story line. A must see on the big screen!
March 7, 2020
Intense. Not what I expected. Hadn't watched any previews.
March 6, 2020
Laughingly, solid boring.
March 6, 2020
This is a solid film - it is not quiet of the quality of a film like Saving Private Ryan but it is a film very much worth seeing. It was refreshing to see the attention to detail and not the normal distortions of history so common in today's films - it did a fine job of presenting WW1 as it was rather than providing a tapestry thought best for movie sales.
March 3, 2020
I read very different reviews some make sense some do not. If the person was joking it's a bad joke and if the were serious then they are an idiot. Title "1917" not costumes of ww11 Nazi's. It moved well with amazing set design. Constant surprises showing the nightmare of world war I. Acting was great, excellent set design, excellent cinematography. It was like a nightmare that did not end. There was hope in the end for humanity and I like that.
March 1, 2020
Like any other was movie but without real .... can't describe.
March 1, 2020
Movie seemed shallow on story. Theme centered almost entirely around one character with just glimpses of how he'd interact with other chacters briefly along his journey. Thought there'd more re: the history behind the war, etc. Apparently my expectations were off.