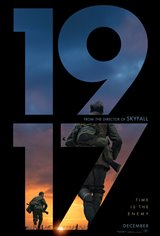 1917
| 173 Reviews
Write a Review
In Theaters: December 25, 2019
On DVD/Blu-ray: March 24, 2020
3.51/5
Based on 468 votes and 173 reviews.
Please rate between 1 to 5 stars
Showing 21-30 of 173 reviews
February 28, 2020
You'd think with such a big budget they'd be able to afford another camera! Most movies cut back and forth with multiple camera angles. I don't know if all these people giving these 5-stars reviews noticed, but this movie is all done in one shot. Obviously the director was too lazy to shoot scenes multiple times in order to get multiple angles. And too lazy to do any editing what so ever! How did no one at the oscars notice this? Clearly they don't know much about movies. Also the Germans weren't wearing the Nazi uniforms that they wore in World War II. Come on! Lack of research!
February 27, 2020
Blockbuster. Production values off the chart. Surprising twists and turns.
February 22, 2020
No so great after all. How many veterans got help from this movie?
February 21, 2020
I really enjoyed this movie and I am not a huge fan of war movies. The story line and acting were very good. I I cried and it takes me a lot to cry in a movie so that goes to show how realistic the acting was. I stayed engaged the entire movie wondering what was going to happen next. I think it deserved best picture at the Golden Globes!
February 21, 2020
KEEPED ME GUESSING THE BEST MOVE SAW IN A LONG TIME. KIND OF LIKE THE MOVIE SAVING PRIVATE RIAN
February 21, 2020
Absolute crap!!
February 21, 2020
Authentic in its scenes, especially of the trenches. I enjoyed it, especially when one sees what is on TV.
February 18, 2020
Boring, silly, predictable and the settings were atrocious, the battle scenes typical ignorant Hollywooden liberal's idea of war. I barely made it to the end, then quickly deleted this POS off my hard drive.
February 18, 2020
was like going back in time to war torn europe in 1917