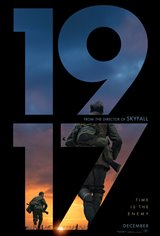 1917
| 173 Reviews
Write a Review
In Theaters: December 25, 2019
On DVD/Blu-ray: March 24, 2020
3.51/5
Based on 468 votes and 173 reviews.
Please rate between 1 to 5 stars
Showing 31-40 of 173 reviews
February 18, 2020
Storyline was good; script was not. Very unrealistic, with pristine trenches, mowed and uncratered fields, unseen enemy, no artillery bombardment (which was heavily factored in WWI trench warfare), absence of noise, cries of wounded, drama. Highly touted, but saw no reason for all the hype. Very disappointing.
February 18, 2020
Very unrealistic. Just goes to show how hype is such a player in all things involving the twisting of the public mind. The main character should have worn a Superman cape instead of a WWI British uniform. Loses his gun and doesn't bother to pick up another even though surrounded by tons of dead soldiers and their discarded weapons? Gimmie a break!
February 18, 2020
NOT A WINNER NOT CLOSE.. BUT TWO LEAD ACTORS WERE GOOD. MOVIE INTENSE, MOSTLY THE MUSIC AND SOUND AFFECTS. A WEE BIT SLOW MOVING.
February 17, 2020
Very well done.
February 17, 2020
This was not a real war movie, very fake. My grandfather and his brother, were in WWI. I have read their letters to their mom. This movie was a total let down.
February 17, 2020
It's highly rated but I was really disappointed!
February 16, 2020
I was sorta expecting Saving Private Ryan, only in WWI.; Boy was I disappointed. Virtually no plot. Virtually no character development. Totally unbelievable happenings. Main character is apparently bulletproof. Really, the airplane just happens to crash land right where they are standing??? Baloney. Save your money.
February 15, 2020
GREAT movie, it seams like you either like this movie or hate it. I think it has to do with the age group. I think these millennial weenies should have saved their money and went back to Oberlin collage and did some more finger painting. For and the rest of us that would like to see an earlier generation fight a war to end all wars go see the movie.
February 15, 2020
Well done movie, but incredibly sad.
February 14, 2020
did not like it, same old same old, guy running to save someone. Cinematography was best about the pic, but not an Oscar worthy film