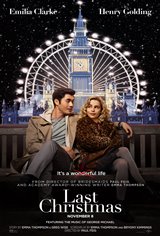 Last Christmas
| 50 Reviews
Write a Review
In Theaters: November 8, 2019
On DVD/Blu-ray: February 4, 2020
3.66/5
Based on 142 votes and 50 reviews.
Please rate between 1 to 5 stars
Showing 21-30 of 50 reviews
November 22, 2019
The best part of the movie was the last five minutes, it explained everything. The good thing though is that you couldn't tell from the movie what the ending would be.
November 22, 2019
I love a good Christmas movie, and the fellow who played the lead was adorable, but I'm not going to lie, for a Hollywood movie, this movie was a little lame, pretty corny and had a pretty weak storyline... it's been told before and better.
November 22, 2019
The movie has no co-hesion!
November 22, 2019
Implausible yes, the story was all that is needed in a holiday movie, which most can't grasp because they're cynics, through and through. It was well acted. and something good for the soul, not car crashes, nor beheadings, nor violence, nor cartoons....it was/is what is required at the holidays.....WELL DONE! Emilia Clarke, and Emma Thompson were brilliant.....
November 21, 2019
It was comical and touching. I truly enjoyed it.
November 20, 2019
Not interesting story, poor arrangement, slow boring.
November 19, 2019
OMG. Maybe the worst movie I've seen in a long time. Surprised I stayed awake. The twist in the movie and the George Michael music are the only reasons I didn't give it a 0.
November 18, 2019
Sorely disappointed. Almost fell asleep a couple times. Save your money.
November 17, 2019
This movie has nothing to do with Christmas, nothing to do with romance and isn't funny. Basically, all the viewer is getting is a trite story about a bed-hopping bimbo whose life is meaningless until she discovers the plot twist, which is interesting but not captivating or original. Throw in all the social engineering propaganda to lead the naïve to believe that half the world is comprised of gay or transsexual victims and there's your movie.
November 17, 2019
Really good story.