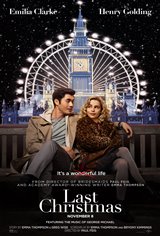 Last Christmas
| 50 Reviews
Write a Review
In Theaters: November 8, 2019
On DVD/Blu-ray: February 4, 2020
3.66/5
Based on 142 votes and 50 reviews.
Please rate between 1 to 5 stars
Showing 41-50 of 50 reviews
November 10, 2019
I don't know what movie other people seen but this one was horrible. If you don't like George Michael don't see this, the only music in it wow.
November 9, 2019
Loved it!! Gave us a lot of smiles and a few tears too! A very lovely movie; I will see it again! Great music all the way through!
November 9, 2019
An absolute must see! Totally has "George's Heart" throught the entire story! He was a musical & lyrical genius, great humanitarian & awesome philanthropist!! He went through so much, gave so much of himself & knew how to treat the "Human Heart"! ???🎼🎧🎤🎶🎷🎸🎹🎵💜😢💜😪💜😢
November 9, 2019
Only good thing was George Michael's music.
November 9, 2019
Actors in this movie were the main reason I went to watch at first. "Last Christmas" not only a romantic comedy but much more.... It has a very important message to deliver! I am very touch by the movie.
November 8, 2019
''Last Christmas'' isn't just another jolly Christmas comedyit is more! It is a real tear jerker. A great performances by Emilia Clarke. To say that this movie has a heart would be the understatement of the year! This movie is not just a Christmas comedy. Last Christmas is a real touching and a heartwarming tail with a special surprise. Original soundtracks by George Michael makes this movie even more delightful.
November 8, 2019
One of the best movies of the year. A MUST SEE. A new Christmas tradition.
November 7, 2019
''Last Christmas'' isn't just another jolly Christmas comedy but a lot more! This movie, directed by Paul Feig, is a real tear jerker and in my case, it was loaded with goose bumps. Good performances by Emilia clarke, Henry Golding, Madison Ingolds, Michelle Yeoh and many others, but particularly by Emma Thompson, who also co-wrote both, the story and the scénario. She is funny and charming with her endearing East European accent. To say that this movie has a heart would be the understatement of the year! Expect a lot more than just a Christmas comedy. Last Christmas is a real touching and a heartwarming one with a special surprise. Original soundtracks by George Michael makes this movie an even more delightful experience.''
November 6, 2019
First off, I love that it's based off of Wham!'s Last Christmas. It was your typical romantic comedy that had a ton of funny moments scattered throughout. The ending was completely not expected, and made the movie that much sweeter, and one George would've been proud of