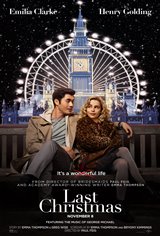 Last Christmas
| 50 Reviews
Write a Review
In Theaters: November 8, 2019
On DVD/Blu-ray: February 4, 2020
3.66/5
Based on 142 votes and 50 reviews.
Please rate between 1 to 5 stars
Showing 31-40 of 50 reviews
November 17, 2019
I went with a friend of mine last night we had liked it
November 16, 2019
Fantastic! Totally heartbreaking, but in a good sort of heartwarming way. (You'll get what I mean when you watch it). It's a pretty deep movie in parts, but I totally loved it. Extremely well thought out and a good use of George Michael music. The ending is a real shocker, and definitely not what you would expect. Phenomenal acting from both Emilia Clarke and Henry Golding. Definitely a must see movie of the season, I totally loved it.
November 16, 2019
I loved the movie, all did an excellent job
November 15, 2019
Cried and laughed and cried. The interaction between the characters was so genuine. Such fun to watch them all
November 13, 2019
5-STAR...all the way! It was an absolutely delightful escape with wit galore, human interactions to rival none, and humour of the unseen kind and beyond. I love an ending that is a total surprise as I am a High School English teacher and always looking for something unusual and unique. Ok, so I really liked it! Dah! Get over it! Will see it again, also. Humour is spelled with a "u".
November 11, 2019
expected more and it wasn't very good. don't waste your money
November 11, 2019
Horrible movie. Almost seemed to make fun of itself st times. Bogus ending.
November 11, 2019
Good incorporation of George Michael music. Although one can easily guess the surprise ending, it's affirming when it's right. Always a pleasure to watch Emma Thompson. It's a holiday monie, sit back and enjoy.
November 10, 2019
Horrible. Save your money.
November 10, 2019
Save your money.Stay home and watch the Hallmark channel.