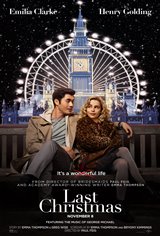 Last Christmas
| 50 Reviews
Write a Review
In Theaters: November 8, 2019
On DVD/Blu-ray: February 4, 2020
3.66/5
Based on 142 votes and 50 reviews.
Please rate between 1 to 5 stars
Showing 11-20 of 50 reviews
December 4, 2019
I love it. It made me smile, it made me cry, it gives me hope. the ending was... well done Emilia Clarke.
December 1, 2019
If you enjoy George Michael, buy the music; not the ticket. His official Youtube video has all to say in 4 mins- for free- that this movie tries to say in 90.
December 1, 2019
It's so woke that it makes you want to hate Christmas and all living things. Baby it's cold inside!
November 27, 2019
Good movie, but grand kids got bored. Love Storie I feel was good! It shows u to cherish every Day ,plus to be Happy for the every Day we live! We're someone gives a life, to save a life
November 26, 2019
Delightful! Would have loved to see Henry Golding more. :-)
November 25, 2019
Interesting characters, thoughtful story of just needing a reason to live and welcoming a push to see clearly.
November 24, 2019
It really is like watching a Hallmark Christmas movie - cheesy acting, not the best, but hey, not the worst movie you'll ever see either. The George Michael music is fantastic.
November 23, 2019
Loved it!!!
November 23, 2019
People who disliked this movie must've missed the point. Yes, George Michael's Last Christmas drives the plot, and they actually bother to develop the characters which takes time, but that's necessary to prepare the audience for the surprise ending. If you bother to pay attention all the way through, you will be rewarded.
November 22, 2019
3 star at first, but when the plot goes further along, turned out to be a great movie!