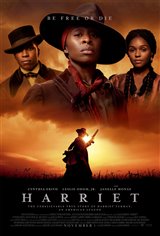 Harriet
| 52 Reviews
Write a Review
In Theaters: November 1, 2019
On DVD/Blu-ray: January 28, 2020
PG-13 | Drama | 2h 5m
4.49/5
Based on 164 votes and 52 reviews.
Please rate between 1 to 5 stars
Showing 21-30 of 52 reviews
November 16, 2019
inspirational beautifully made movie
November 16, 2019
This is a great movie for Millenials to see. It wil give them a basis of what the struggle was for nonwhites.
November 16, 2019
Amazing story, very inspirational.
November 16, 2019
A great movie about a woman who has been hidden by history. She deserves to be on the $100 bill. Glad to see this history brought to life and memory.
November 14, 2019
Although this is a true story the movie does not do it justice. The movie is slow, long an boring... I had such high hopes for it! All my stars are for the fact that this woman's story is so incredible and therefore the movie deserves starts just for trying to communicate it.
November 14, 2019
I saw this movie with three other women and all of had trouble understand the dialog. The actors were all mumbling and could not be understood. It was a good movie but I did not like/believe the parts where she got word from God. That was just too unbelievable.
November 13, 2019
For the 2 star reviewer of great insight & wisdom; though not Muslim, I research events & people that influence history. Mohammed was an orphaned illiterate peasant , who, guided by God (Allah), gave inspiring speeches & we now have Islam, nearly 2 billion strong. Some saw him as a threat & planned for his assassination. An extraordinary story of an extraordinary courageous woman who seemed to have been inspired by a higher power to make some very important decisions so as not to get caught by her predators. I see an Oscar contender. rh
November 13, 2019
Excellent. It will make you say right on.
November 11, 2019
A remarkable film- very inspiring. It's a must see.
November 10, 2019
An intelligent movie that really gives you something to think about and be inspired by.....