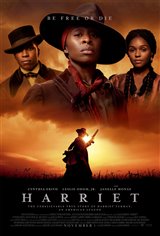 Harriet
| 52 Reviews
Write a Review
In Theaters: November 1, 2019
On DVD/Blu-ray: January 28, 2020
PG-13 | Drama | 2h 5m
4.49/5
Based on 164 votes and 52 reviews.
Please rate between 1 to 5 stars
Showing 31-40 of 52 reviews
November 9, 2019
Excellent, fantastic; educational, provocative, super powerful, in the face of any challenge one can overcome and triumph. A masterpiece of an act. Extraordinary script, deep seated divinely guided choice of a penning inspired only by the gods. Ms Tubman directed this from above, God chiseled this. Every actor/actress was outstanding, God lived in them and directed their every act, there's know other way to understand how this movie became so divinely put together. Every living soul should see this, every parent should take the kids to see it. Children, focus on the positive things you want to do no matter how challenging, there is light at the end of the tunnel, The Omnipresent will direct and see you through.
November 9, 2019
I love this movie and the meaning behind it. It is a phenomenal movie. 🌟🌟🌟🌟🌟
November 8, 2019
great story, but hokey! There were some really dumb dialogues and some really dumb slave life scenes. Harriet's speeches, meant to be inspiring, were unrealistic and way too highbrow for the slave she was supposed to be. With better writers and a good director, this could have been fantastic, but fell short for me.
November 7, 2019
True story
November 6, 2019
Amazing what this woman did. Why do we hesitate to put her picture on the $20 dollar bill. This might insure that people investigate as to who this fine woman was. It is sickening to see the treatment white people put on black people and we still have far to go. This is a must see movie and hopefully middle and high schools will show this as a history lesson. Amen
November 5, 2019
This is a story of an American hero that too many Americans have never heard about. Harriet Tubman was a courageous woman who made a difference in the lives of so many. The movie is powerful!
November 5, 2019
Strong acting, very good movie. Oscar contender for sure!
November 4, 2019
It was a real good movie!! I will love to see it again soon
November 4, 2019
Very good movie and very good acting!
November 4, 2019
Fantastic film that fairly accurately portrays a portion of Harriet Tubman's life. Well acted and deserving of awards.