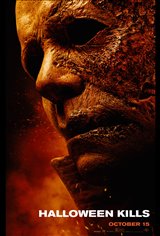 Halloween Kills
| 79 Reviews
Write a Review
In Theaters: October 15, 2021
On DVD/Blu-ray: January 11, 2022
2.2/5
Based on 306 votes and 79 reviews.
Please rate between 1 to 5 stars
Showing 21-30 of 79 reviews
November 2, 2021
Just because Halloween is over doesn't mean you still can't enjoy this one. 5/5
November 1, 2021
For a horror screenwriter, Danny McBride is a heck of a comedian. Just awful.
November 1, 2021
Horrendously awful. Too silly, embarrassing really. May appeal to foolish fanboys who can't tell one franchise from another.
November 1, 2021
As someone who's new to the franchise I came away impressed. Now that I know what I've been missing I'm going to go back and watch them all. Mightily impressed by what the filmmakers were able to accomplish here! Jason lives!
November 1, 2021
It was all in good fun. Would love to see another.
November 1, 2021
Absurd sequel finds Old Man Curtis starting a pitchfork posse...and it gets dumber from there. What will they do for the next sequel? A crossover with COCOON?
October 31, 2021
So incredibly stupid! So stupid it's embarrassing.
October 31, 2021
pre hit movie no scarey ,stop the hollween serios ok
October 28, 2021
Lazy filmmaking. Extremely stupid and not even a bit scary.
October 28, 2021
For HALLOWEEN ENDS they should do something really special like a Michael/Jason crossover in which Jason arrives in Haddonfield hoping to hone in on Michael's hunting grounds. A HUGE twist comes when Michael and Jason get their masks mixed up after a tussle. As the body count rises, it's unclear which masked maniac is Michael and which one is Jason. For the answer to that question you'll have to see the sequel...