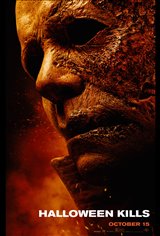 Halloween Kills
| 79 Reviews
Write a Review
In Theaters: October 15, 2021
On DVD/Blu-ray: January 11, 2022
2.2/5
Based on 306 votes and 79 reviews.
Please rate between 1 to 5 stars
Showing 1-10 of 79 reviews
April 14, 2022
It's really stupid, and Old Man Curtis is hardly in this!
March 13, 2022
Objectively bad. Terrible, really! But so bad it's great. It's so stupid it's hilarious, kind of like a horror movie version of THE ROOM. It gets even funnier if you realize The Shape's directional path makes this film a homicidal version of THE SWIMMER (!). Scott MacArthur and Michael McDonald are standouts as the gay guys. McDonald plays "gay scared" really well. Everyone is stupid in this movie and even stupider with guns. Jamie Lee is hardly in it and does even less. Drinking games are inevitable with this one.
February 6, 2022
Waste of time
November 15, 2021
Too dumb to even exist, yet it does exist. I'm starting to think that Danny McBride's entire career has been the doing of some Hollywood affirmative action program for the mentally challenged.
November 13, 2021
It may be available for streaming now but this still demands to be seen on the big screen.
November 10, 2021
Haha!! So bad it's unintentionally hilarious! It's even dumber than Sleepaway Camp, but that film had an amateurish charm. There's no charm here. It might be good for drinking games. Cheers!
November 9, 2021
Love all the sequels...however, JLC didn't have a great role in this one. Enjoyed seeing Kyle Richards reprise her character.
November 9, 2021
The real pandemic is bad movies. This is the latest variant.
November 7, 2021
Still the best movie out there.
November 7, 2021
Strong candidate for stupidest movie ever.