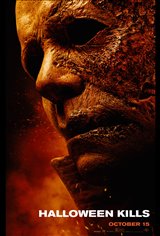 Halloween Kills
| 79 Reviews
Write a Review
In Theaters: October 15, 2021
On DVD/Blu-ray: January 11, 2022
2.2/5
Based on 306 votes and 79 reviews.
Please rate between 1 to 5 stars
Showing 41-50 of 79 reviews
October 24, 2021
This was sooooo bad! Curtis's performance was embarrassing. She has become Rod Steiger. Not scary at all, it's an obnoxious and insulting movie.
October 24, 2021
The movie is absolute gold! I love this movie. I will watch it again. The drama between Michael and Laurie Strode is palpable. I cannot wait until the the next month.
October 24, 2021
Absurd crap
October 23, 2021
Stop making Halloween movies! Michael Myers is dead he cannot live forever. Get real these movies are getting stupider and stupider.
October 22, 2021
good show but when does It end we thought this was it but there will be another
October 21, 2021
What crap! I can't believe my friends roped me into seeing this junk. At least they paid for my ticket, but they're not done paying! This is total garbage. The only good films in this series are the first three. Stay at home and watch those. Don't waste your money on this.
October 21, 2021
Completely unscary and monumentally stupid.
October 20, 2021
Honestly I personally think this was the best one. Idk about yall but the older ones are not even scary. I got a lot and sometimes I even jumped. the only thing I didn't like was the ending. like really, I don't wanna spoil it it but if you see it you will know why.
October 20, 2021
There was this old man in the film that I found really frightening. Then I realized the old man was actually Jamie Lee Curtis! Haha! Yeah, this really sucked.
October 20, 2021
Going through the motions...connecting the dots...the problem is this stuff stopped being scary decades ago. They're just picking pockets now. Give it up already!