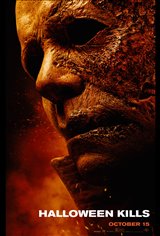 Halloween Kills
79 Reviews
|
Write a Review
In Theaters: October 15, 2021
On DVD/Blu-ray: January 11, 2022
2.2/5
Based on 306 votes and 79 reviews.
21.28%

9.22%

2.13%

2.84%

64.54%
Please rate between 1 to 5 stars
Showing 71-79 of 79 reviews
October 16, 2021
Awesome follow up movie , can't wait for the final one .
October 16, 2021
Even worse than the last one and twice as boring.
October 16, 2021
I'd give it less than one star but because I went to see it - that counts for the one star. I left half way thru the movie -beyond comical, beyond ridiculous, DON"T WASTE YOUR MONEY seeing this pathetic excuse for a move.
October 15, 2021
It's all been done, over and over and over. This stopped being scary several lifetimes ago. When did JLC become a man?????
October 11, 2021
i thought it was the 15
October 7, 2021
AWESOME
October 3, 2021
The music the story the kills was great
July 1, 2021
Laurie Strode yells at clouds while a senile Michael Myers wields an empty Geritol bottle that he thinks is a knife.
April 19, 2021
There's a new HALLOWEEN movie coming in October and rumour has it Michael Myers will be getting married. It would certainly be different and give added dimension to the character.