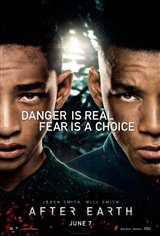 After Earth
91 Reviews
|
Write a Review
In Theaters: May 31, 2013
PG-13 | Action, Adventure, Fantasy, Drama, Science-Fiction | 1h 39m
2.71/5
Based on 246 votes and 91 reviews.
28.70%

12.04%

6.48%

7.41%

45.37%
Please rate between 1 to 5 stars
Showing 31-40 of 91 reviews
June 22, 2013
Yeah please dont even bother watching this movie. Seriously the folks who gave it a five or four star rating are either wil himself, or his most devoted followers. This movie was absolutely terrible, and a total waste of money and time..If i could give it a zero I would..will has lost his edge folks..
June 15, 2013
The smartest, most thought-provoking blockbuster of the summer. Young Smith is a real find.
June 15, 2013
Will Smith's best movie.
June 14, 2013
His kid is TERRIBLE! Their accents are lame and slurry. If I'd know it was an M.Nightshamalalalalalalman movie I'd have skipped it! UGH
June 14, 2013
Terrible!
June 14, 2013
Good movie I agree with bad acting but I liked the movie overall
June 13, 2013
This is the best movie in a long time.
June 13, 2013
Please save your money & go see a comedy.
June 13, 2013
Must be nice to have rich parents who can finance a whole movie for you...have Will's son ever got a role where Will did not intervene? ANSWER: NO!
June 13, 2013
Please save your money & DO NOT go see this. Way too boring for me.