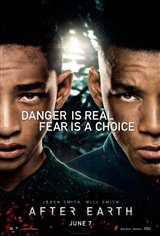 2.71/5
Based on 246 votes and 91 reviews.
Please rate between 1 to 5 stars
Showing 21-30 of 91 reviews
September 30, 2013
JUST PLAIN BAD
September 10, 2013
Terrible! Terrible! Terrible! I love even mediocre sci fi movies, but this is terrible!
July 30, 2013
great movie
July 6, 2013
I agree with others that his is not a bad movie but the acting is horrible. Not the usual Will Smith performance. Came away with a gem though about how to look at fear.
July 1, 2013
I slept almost during the entire show. The movie was more between father and son with the father as the narrator.
June 28, 2013
The best movie of the year.
June 24, 2013
It's not a bad movie. It was quite enjoyable. I had been expecting like Avatar and this was not it. But the kid did a good job. Like a young Kurt Russell. And he's a kid. The movie is kind of like a Lassie. Wish he did have a dog to pet and talk to (and lose and find) would have made it better. But as it was, Some of the complaints are fair - they use a contemporary local accent instead of standard american-english or a more clever futuristic dialect a la Clockwork Orange etc. so Cheezy/lame not trying. But I loved the set design. Ship was great. Hints of Organic meshed with Inorganic. That's skin not toilet paper dude. And who doen't like a good trek against the odds? Learning
June 22, 2013
THIS MOVIE SUCKED BIG TIME FOLKS..THERE IS A REASON WHY CLOSE TO 50 PERCENT GAVE IT A ONE OR TWO STARS, IF I COULD GIVE IT A NEGATIVE 5 STARS I WOULD, TERRIBLE ACTING, TERRIBLE ANIMATION, TERRIBLE STORYLINE..JUST TERRIBLE...EHHEEHE
June 22, 2013
Terrible move, if I could give it a zero, I would, better yet, if you really want to be tortured, go watch battle field earth with john travolta, and then watch this move, and then get drunk, because brother your going to need the booze.