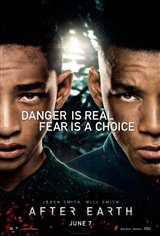 After Earth
91 Reviews
|
Write a Review
In Theaters: May 31, 2013
PG-13 | Action, Adventure, Fantasy, Drama, Science-Fiction | 1h 39m
2.71/5
Based on 246 votes and 91 reviews.
28.70%

12.04%

6.48%

7.41%

45.37%
Please rate between 1 to 5 stars
Showing 11-20 of 91 reviews
October 25, 2013
Low budget movie. A bit of special effects. No plot.
October 18, 2013
the kid is so bad at acting!!!!!!!
October 18, 2013
basically just a dad-son conversation throughout the entire movie. Bad Bad Bad Bad Bad
October 18, 2013
one of the worst movies of the year
October 18, 2013
The kid can't act! Mono-expression!
October 18, 2013
Thank God I didn't pay for this movie! Would have been a waste of money!!
October 18, 2013
My wife and I had hard time staying awake. Was so happy when the movie was over. Terrible movie and bad acting
October 16, 2013
Those 5 star ratings must be coming from the Smith family because this movie is terrible.
October 10, 2013
Suneagle's Review 4*s. Wow!! I actually loved this movie. I was expecting it to be bad so my expectations were very low because of all the other bad reviews but this movie actually had everything you want in a great sci-fi survival dad and son movie. Great monsters, awesome action, cool sci-fi with a plot they could seriously build on. Acting was even good. I really don't understand what people are complaining about ?!! I was Very impressed. Listen don't miss this movie, rent it, buy it what ever you will enjoy it have fun. Father and son movie have fun!!
September 30, 2013
I want my money back .....WILL