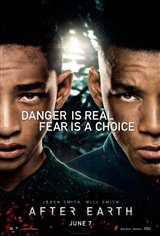 2.71/5
Based on 246 votes and 91 reviews.
Please rate between 1 to 5 stars
Showing 51-60 of 91 reviews
June 9, 2013
Loved IT!!!!
June 9, 2013
It was OK not great but not horrible i went to see it with a friend and it was at around 7:00 and people still didnt show up to see it at 7:00 on a saturday. They could do better and then the theaters would be full. I wish they did better.
June 8, 2013
This movie was so bad that I wasn't even going to spend the time to write a review. I'm only doing it because I'd like to suggest a change to this review process to have a "zero star" rating because this movie doesn't even deserve to get a one star rating. Terrible acting, implausible story line, such an awful movie! Don't waste your money. That's all I need to say.
June 8, 2013
Thanks to those people that kept their ratings honest. Movies might get better if no one goes to see them. Because of these ratings, I will not see this movie, saving me time and money. Thanks again.
June 8, 2013
Mixed feelings towards this movie. My husband loved it and I wasn't as impressed. I have to agree with several comments on here it seemed like jaden smith sort of did a poor job. It's like he got the job because he was the son of will smith. Whatever the case will and jaden did so much better in the pursuit of happyness. I would say, see the movie as a matinee and don't raise your expectations too high and you might enjoy it.
June 8, 2013
Bad movie and acting.
June 7, 2013
waste of time , smith family financed ???
June 6, 2013
dismal performance, awful cgi, crap writing.
June 6, 2013
I'm giving it a 3 Stars for the earth theory and for the special effects. Acting was so-so. The boy should have had a group of two or three others, including a girl, to go on his quest. Would have made a much better movie!
June 6, 2013
Very slow start, and it never really picked up. Not a typical Will Smith movie.