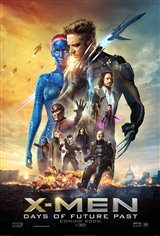 X-Men: Days of Future Past
3.85/5
Based on 542 votes and 113 reviews.
Please rate between 1 to 5 stars
Showing 31-40 of 113 reviews
July 9, 2014
Hope they can get Rebecca Romjin back for the next one; if not, then Zoe Saldana would make a fine Mystique.
July 1, 2014
Great Movie! More of a DVD worthy!
June 30, 2014
Jennifer Lawrence is the WORST Mystique ever! Ruined the movie!
June 26, 2014
PHENOMENAL!!!!!!!!!!!!
June 20, 2014
Another vote for Zoe Saldana as Mystique!
June 20, 2014
I've had it up to here with people defending Jennifer Lawrence's part in this movie; Mystique is sexy and lithe, two things Lawrence will never be. I agree with the suggestion of Zoe Saldana as Mystique in the next film -- not only is she uber hot, but blue is her colour!!!
June 20, 2014
Does anyone think there will be an extended version with action between Wolverine and some sentinels? And how Wolverine got his Adamantium claws back and broke the mutants free out of the concentration camp, and how they got there new outfits? And that scene with Rouge they cut out. I think it would be freaking awesome considering that is what I looked forward to the most in this movie and didn't see it.
June 20, 2014
I'm sick with people saying that Jennifer Lawrence has ruined mystique. First of all, this Mystique I'm the past. They had to get a younger actress to play her. Rebecca Romijn is the fully grown Mystique. Second of all, Raven isn't fully, "Mystique" yet. She's still learning who she is as a person. As it says in the film, the day Raven killed Trask is when she really became, "Mystique."
June 18, 2014
Jennifer Lawrence...meh. Emily Blunt or Zoe Saldana should be Mystique if the series continues.
June 15, 2014
Jennifer Lawrence wasn't around in the 70's.