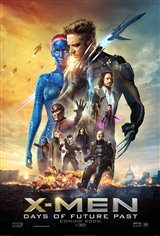 X-Men: Days of Future Past
113 Reviews
|
Write a Review
In Theaters: May 23, 2014
3.85/5
Based on 542 votes and 113 reviews.
53.16%

17.09%

6.96%

6.96%

15.82%
Please rate between 1 to 5 stars
Showing 41-50 of 113 reviews
June 14, 2014
To those dissing Jennifer Lawrence as Mystique, you should probably watch X-Men: First Class because your comments are pretty silly. Don't you realize the bulk of this movie takes place in the 70s???
June 14, 2014
Really boring, if not for nachos that I've ordered I've walked away.
June 10, 2014
If they couldn't get Rebecca Romjin back Mystique should have sat this one out. Berry is fun, though...
June 9, 2014
Jennifer Lawrence ruins an otherwise winning film.
June 7, 2014
very good movie
June 7, 2014
Really missed Mystique...
June 6, 2014
I loved the film. I wasn't a huge fan of XMEN as a child but as I got older I learned the lore and fell in love with the themes. Acting is pretty great, the situations unique and intriguing. Also it tries to erase the crappy movies of the past. Good job!
June 3, 2014
I hope they bring back the real Mystique next time.
June 3, 2014
Almost as good as X-MEN ORIGINS: WOLVERINE.
June 3, 2014
The best X-Men movie. 5 stars