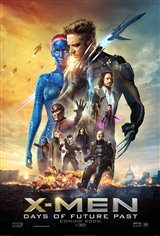 X-Men: Days of Future Past
113 Reviews
|
Write a Review
In Theaters: May 23, 2014
3.85/5
Based on 542 votes and 113 reviews.
53.16%

17.09%

6.96%

6.96%

15.82%
Please rate between 1 to 5 stars
Showing 21-30 of 113 reviews
August 1, 2014
"JLaw" is an embarrassing Mystique.
July 29, 2014
I thought the movie was terrific and AWESOME for kids to enjoy. I liked it because Wolverine claws were way different than the original claws.
July 24, 2014
This is not a reboot.
July 24, 2014
This movie was excellent. Acting and action was over the top. Plot lines were well conceived and goes with the X-men universe. This movie is a reboot of the franchise and was just what was needed. All in all two thumbs up!!
July 23, 2014
It was ok; missed Mystique though. 3/5
July 17, 2014
Did they shoot all of Halle's scenes in one afternoon???
July 16, 2014
Yes, Lawrence just doesn't have the gracefulness needed to play Mystique. Romjin did, and she was fantastic!
July 16, 2014
I agree -- they didn't think this one through all the way. Since Wolverine's claws reverted back to their 1970's appearance, the Mystique we all know and love from the trilogy could have had her powers restored as a consequence of time travel. That would have been awesome, to see Rebecca in action one more time.
July 16, 2014
Wow was this bad! If they couldn't get Rebecca Romjin they shouldn't have given Mystique such a big part in the movie. 1/5
July 12, 2014
A new low for the series; they need to bring back Rebecca Romjin, and quick!