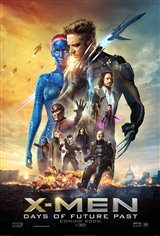 X-Men: Days of Future Past
113 Reviews
|
Write a Review
In Theaters: May 23, 2014
3.85/5
Based on 542 votes and 113 reviews.
53.16%

17.09%

6.96%

6.96%

15.82%
Please rate between 1 to 5 stars
Showing 11-20 of 113 reviews
February 18, 2015
It's an X-Men movie with Wolverine as a main player, of course it's a great movie!!!!!
February 17, 2015
The X-Men are so dang cool! I've always been fascinated with their mutant powers, so I can't wait to watch this one!
February 8, 2015
GREAT, LOVE ALL OF THESE X-MEN MOVIES
December 18, 2014
Missed Mystique.
December 18, 2014
Cool movie what you would expect from an X-Men movie
November 29, 2014
Story was interesting. Effects were cool. Didn't care for the actress playing Mystique.
November 18, 2014
well crafted addition into the x-men franchise.
October 13, 2014
THE BEST ACTION MOVIE EVER!
October 4, 2014
THE BEST SUPERHERO MOVIE EVER SINCE 'THE DARK KNIGHT'
September 30, 2014
If only they'd gotten Rebecca Romjin this would have been the best X-MEN ever.