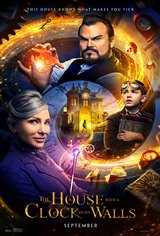 The House with a Clock in its Walls
64 Reviews
|
Write a Review
In Theaters: September 21, 2018
On DVD/Blu-ray: December 18, 2018
4.02/5
Based on 392 votes and 64 reviews.
50.00%

30.65%

3.23%

4.03%

12.10%
Please rate between 1 to 5 stars
Showing 1-10 of 64 reviews
February 9, 2019
aweful
January 11, 2019
magical
November 23, 2018
Love it
November 19, 2018
Lighten up, everyone! It's a movie, right? I enjoyed the story, the acting and the effects. Step back from your angst and enjoy!
October 26, 2018
I liked the fact that the movie had Jack Black and Cate Blanchette in it. I never go by what the critics say good or bad I go see the movie if i'm interested and if not either wait till its on tv or rental if i want to see it.
October 21, 2018
horrible, no plot, 53.00 for crap
October 18, 2018
LOVED IT!!!!!!!! AND JUST IN TIME FOR HALLOWEEN
October 14, 2018
The acting was great, but the plot line was a bit strange to me. Also, many parts in the movie made me a bit uncomfortable. Remember, this is just me personally, but I didn't like the movie that much. Though again, great acting and actors.
October 14, 2018
What the H is going on with these reviews?!!? Satanic? Really?! If this is Satanic than so is Little Red Riding Hood, 3 Blind Mice, The Grinch and heck, why not through in the story of Christ too!! People have lost their Gosh darn minds!! A fun, magical movie for kids. Full Stop.
October 12, 2018
Terrible. Walked out after 30 minutes.