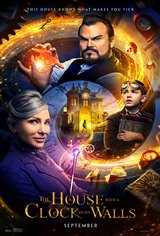 The House with a Clock in its Walls
64 Reviews
|
Write a Review
In Theaters: September 21, 2018
On DVD/Blu-ray: December 18, 2018
4.02/5
Based on 392 votes and 64 reviews.
50.00%

30.65%

3.23%

4.03%

12.10%
Please rate between 1 to 5 stars
Showing 21-30 of 64 reviews
October 7, 2018
Good entertainment. The kids liked it. The child actor did the best acting.
October 6, 2018
Loved it, anything with magic in it appeals to many. Jack Black is always worth seeing!
October 5, 2018
Really fun watch if you don't take things too terribly seriously. It looks like they had fun making it.
October 5, 2018
Couldn't wait for it to be over! Boring with few laughs.
October 5, 2018
Very disturbing satanic movie. I wouldn't take my children to see this. Waste of time and money. No effective comic relief.
October 5, 2018
Worst movie I have seen in a while. The acting was fine, but the story line is really DUMB.
October 5, 2018
Thoroughly enjoyed this movie.
October 4, 2018
This is more of a "humorous" movie as opposed to a comedy. Jack Black & Cate Blanchett deliver a decent performance for a light movie. While the movie is somewhat predictable, it's all in good fun. The house itself also puts in a good performance! I gave it 4 stars because I enjoyed the movie and it had enough ridiculous moments that it will be worth watching again.
October 2, 2018
This movie is demonic and satanic.
October 1, 2018
I enjoyed this ,,,easy watching bit of fun..not better then Potter films,but well worth seeing!