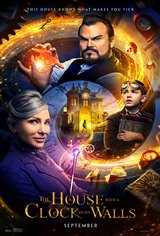 The House with a Clock in its Walls
| 64 Reviews
Write a Review
In Theaters: September 21, 2018
On DVD/Blu-ray: December 18, 2018
4.02/5
Based on 392 votes and 64 reviews.
Please rate between 1 to 5 stars
Showing 31-40 of 64 reviews
September 26, 2018
Bored me to death--left after 45 minutes. When Jack Black is bad, he's really bad...……….gurubob…….two thumbs WAY down.
September 26, 2018
The film doesn't seem to know what it is about-is it trying to make you laugh, take it as a fantasy? as a real story? scare you or to be a farce. One moment it is trying to do one of these things and then it moves to contradict this point. With that said-for an audience of between 6 to 13 this film will be a solid 4 stars but for any adult this film is painful to watch like a very bad version of Harry Potter (which I loved). About the only thing that saves the film at all are the interesting set designs inside the house that are not the fake looking CGI effects in the film. If you have kids you should take them but if you are an adult skip this one as this not a film of the quality of the Harry Potter films. Films like this ultimately fail as the film makers seem to forget that in order to take someone into a flight of fantasy suspension of disbelief must occur-this never comes close to happening anywhere in the film.
September 25, 2018
Excellent effects and terrific acting. Amusing side characters. Creepy story with right amount of humor. Really draws the viewer in. Good for older children and adults as well.
September 25, 2018
If the last Harry Potter films were as good as this they'd still be making them.
September 25, 2018
This movie was great. I did not find anything dark and super creepy from this movie. Lol
September 24, 2018
Ummm, not for me. Perfect for the younger crowd.
September 24, 2018
Lots of twists and turns... love Jack Black and HIGHLY RECOMMENDED
September 24, 2018
Technically good but not for me.
September 24, 2018
A must for Potter fans.
September 23, 2018
Well acted, perfect amount of humor, Halloween scared, colorful, friendship lesson, and special effects.