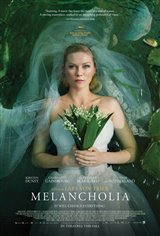 Melancholia
38 Reviews
|
Write a Review
In Theaters: November 11, 2011
2.25/5
Based on 162 votes and 38 reviews.
13.75%

12.50%

12.50%

7.50%

53.75%
Please rate between 1 to 5 stars
Showing 1-10 of 38 reviews
May 8, 2012
horrible!!
April 2, 2012
watching the first 30 minutes was painfully slow and depressing. thank god for the hotness of alexander skarsgard!
February 5, 2012
only a great film like this can garnish reviews from two opposite sides of the spectrum, which makes it a brilliant film.. its obviously only appealing to a specific type of mind. its not for everyone.. which makes me conclude that in mankind .. there are retards and thinkers.
January 8, 2012
Very sad and tragic. Not bad but I would wait for tv.
January 6, 2012
Not for everyone... it's not an action movie and it's slow but it's really sad and beautiful at the same time. I love it.
January 6, 2012
A bit cheesy.
January 4, 2012
HATED this BORING film - a true waste of time!!
January 3, 2012
Worst movie of the year!!!
January 2, 2012
not worth the gas or the cab ride there
December 27, 2011
worst movie of all time!