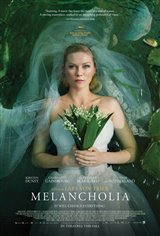 Melancholia
38 Reviews
|
Write a Review
In Theaters: November 11, 2011
2.25/5
Based on 162 votes and 38 reviews.
13.75%

12.50%

12.50%

7.50%

53.75%
Please rate between 1 to 5 stars
Showing 11-20 of 38 reviews
December 24, 2011
a bit disappointing but overall worth seeing.
December 22, 2011
One of the years best films. People that hate on this film don't understand good film making. Enough said.
December 20, 2011
AWFUL
December 16, 2011
One the best depictions of depression I've seen, actual and metaphorical.
December 12, 2011
Watch it. Not an enjoyable viewing experience but it will creep up on you. Haunt you till you realize it actually had something to say. How many movies can do that nowadays? Or ever?
December 11, 2011
Not even Kirsten Dunst being naked could save this movie!
December 10, 2011
great movie!
December 6, 2011
Stunning; great direction, great acting.
December 5, 2011
Sounded good in the magazine but it was slow and interesting in a sense, but I wouldn't call it a good movie. The way the sisters change regarding the approaching planet and how the wedding played out were aspects that made it watchable.
December 3, 2011
Best part of the movie was the end - not the ending - but the fact that it was over! Sad...