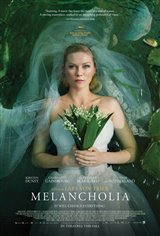 Melancholia
38 Reviews
|
Write a Review
In Theaters: November 11, 2011
2.25/5
Based on 162 votes and 38 reviews.
13.75%

12.50%

12.50%

7.50%

53.75%
Please rate between 1 to 5 stars
Showing 31-38 of 38 reviews
November 19, 2011
the movie made me physically ill....dumb
November 18, 2011
still not sure if I liked it or not
November 17, 2011
Dunst gives a performance of a lifetime.
November 17, 2011
Fascinating surrealism, but it dragged on and on and was terribly depressing. Few people showed up for this free screening, and many, many people walked out as the movie progressed. No clapping at the end, just comments from people that they wasted their time, etc.
November 15, 2011
Not good - went to a screening of it and only about 30 ppl showed up (must have known what it was like beforehand!)
November 15, 2011
You need to be in the right mood to enjoy movie
November 15, 2011
not sure I liked this movie but I was facinated at times
November 13, 2011
Was fortunate enough to catch this at TIFF earlier this year. Beautiful but slow. Sometimes uncomfortable (as most von Trier films can be) but overall, pretty amazing.