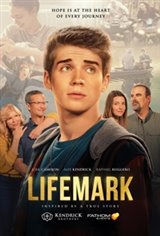 Lifemark
| 29 Reviews
Write a Review
In Theaters: September 9, 2022
On DVD/Blu-ray: December 13, 2022
PG-13 | Drama | 2h 0m
4.64/5
Based on 78 votes and 29 reviews.
Please rate between 1 to 5 stars
Showing 21-29 of 29 reviews
September 11, 2022
Kirk Cameron's best movie since Saving Christmas; but that's not saying much at all.
September 10, 2022
This movie was pro birth propaganda and I was offended by the way they portray other choices besides adoption. The family appears too perfect and unrealistic and their incessant conversation about " G-D" was extreme and they were religious zealots. If they had excluded the part about the " near abortion" the other issues could have been overlooked.
September 10, 2022
I liked it because it gives information for options for a couple or single person to make the best choice for their baby as well as their future. To actually hear the true stories of real people who did just that and the Awesome outcome for everyone; especially #1 the baby.
September 10, 2022
It is not often you can watch a well-made, well-acted, movie that has value. The subject of adoption was presented clearly, compassionately, and positively. It is a complex subject that was clearly presented. I enjoyed it very much. :)
September 10, 2022
Great movie that celebrates the values that are now lacking in the world. I wish there were more movies like LIFEMARK. Congratulations Kirk Cameron!! God bless you!
September 10, 2022
Hit pretty much all the emotions. Started out a little disjointed but all the threads got pulled together for an emotional roller coaster of a film. Raw and real.
September 10, 2022
An excellent film. Shows the beauty of adoption and its effect on the birth parents as well as the adoptive parents. It is slanted on choosing life over abortion but not in an overbearing way.
September 9, 2022
The most beautiful movie I have seen in a long long time. Incredibly well done and so moving. Kirk Cameron deserves an academy award! I highly recommend it.
September 9, 2022
Emotional and exciting! Nothing like this movie has been ever made before! A must see for everyone!