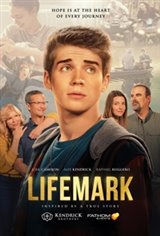 Lifemark
| 29 Reviews
Write a Review
In Theaters: September 9, 2022
On DVD/Blu-ray: December 13, 2022
PG-13 | Drama | 2h 0m
4.64/5
Based on 78 votes and 29 reviews.
Please rate between 1 to 5 stars
Showing 11-20 of 29 reviews
September 16, 2022
Everything
September 15, 2022
It took a couple of extremely sensitive issues from a true story, and showed what God can do when we make the right, selfless choice!!! I thought it was beautiful!, well done, touching! Made me laugh, and cry! I can't wait to see it again!!!
September 14, 2022
Very informative and excellent acting. Showing compassion in so many ways for all involved and based on a true experience.
September 14, 2022
An amazing movie.......especially because it is based on a true story. Highly recommend this movie, it is a beautiful true story.
September 14, 2022
Wonderful life story from the child who was allowed to live! The unselfish young girl who made such a mature decision really touched my heart. Our Lord's love and forgiveness was reflected throughout the movie. What a wonderful gift this movie is!!!!!
September 12, 2022
A real life story that will gives a different perspective on choices we can make that have a positive impact on another's life.
September 12, 2022
We went as a family, which includes our adopted daughter. It was a special time for us, and the movie was well done! It was quite humorous along with the importance of the topic.
September 12, 2022
I have always enjoyed the movies done by the Kendrix brothers. Their goal is to always reveal the heart of God even with very difficult topics. This is a movie of a woman's battle to make right decision concerning her life and the life of the child. It revealed God's mercy and grace that appeared in a moment! God knows what is best! We must trust Him even in the darkest days. He said He will never leave you or forsake you. He proved that in this reenactment. Thank you!
September 11, 2022
Love that this was a real life story. It introduced us to the real people and the characters who played their story. I concurred the message was; give the fetus a chance to live with or without you. The choices given to us is the ones you have after the girl has conceived, adoption or abortion. Adoption shows as the best option. We see the outcome of the unselfish decision, she opted for life of the fetus. The movie led one to feel every emotion the characters were going through. Heart felt! If only more females would take contraception, we would not have to abort babies. Great movie!
September 11, 2022
I love that this is a true story - almost exactly as it happened per video footage of the 2018 documentary, "I Lived on Parker Avenue". It's not slanted this way or that way, it's just 1 extended family's experience. And they happen to be strong Christians. So what? That's what got everyone through their unique trials. It's a beautiful story that I hope inspires more people to consider this totally selfless option of adoption. 1 million people waiting to adopt each year!! And the birthmom gets to hand-select the adopting family! Bring tissue! The kid videotaping was a little annoying, but someone did videotape the whole story. Thank you!