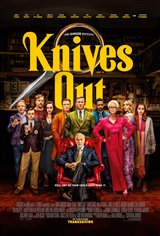 Knives Out
136 Reviews
|
Write a Review
In Theaters: November 27, 2019
On DVD/Blu-ray: February 25, 2020
4.03/5
Based on 368 votes and 136 reviews.
59.22%

12.85%

10.06%

7.26%

10.61%
Please rate between 1 to 5 stars
Showing 21-30 of 136 reviews
February 1, 2020
Too political.....
January 31, 2020
We really enjoyed this movie. Great cast mix and we love a good who-done-it. All the complaints seem to be from ppl who are easily bored. Maybe there wasn't enough gratuitous violence for them. But we really enjoyed it!
January 30, 2020
everything was great!
January 29, 2020
Very entertaining film performed by a superb ensemble cast. Enjoyed it immensely.
January 27, 2020
Loved the movie.with the twists, turns, & creativity. rh
January 27, 2020
Ana was terrific in this role, an award performance. Love that the movie kept your mind in a workout to guess who, what and where the mystery unfolds with surprise twists and some laughter.
January 25, 2020
Did not think I would like this Movie but I went because the Family wanted to see it. We don't always agree on movies. I was surprised and ended up enjoying the movie . Somtimes kind of slow but overall I'm glad I went. The people in the Movie were true to life with People in the Real world.
January 21, 2020
An excellent whodunit with a well-written script and a wide variety of personalities within the characters. It kept me guessing on who the murderer was and who hired the detective until almost the end. I'm patiently waiting for Knives Out 2, 3 and 4.
January 19, 2020
Fun, clever, and well paced.
January 18, 2020
Loved this movie! Very engrossing... Lots of twists and turns... A++