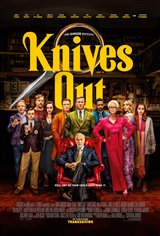 Knives Out
136 Reviews
|
Write a Review
In Theaters: November 27, 2019
On DVD/Blu-ray: February 25, 2020
4.03/5
Based on 368 votes and 136 reviews.
59.22%

12.85%

10.06%

7.26%

10.61%
Please rate between 1 to 5 stars
Showing 11-20 of 136 reviews
February 22, 2020
Great cast, some favourites and some great new people, too. Fun whodunit. Great sound, visuals and location. Captivating script and delicious performances take you out of the theater and into that world. Hope there's a sequel.
February 19, 2020
A little slow at the beginning, but enjoyed the twist and turns along the way..
February 17, 2020
Good movie. Twists and turns in the "who dunnit" plot. A little gratuitous political jabbing, but otherwise a very entertaining movie.
February 16, 2020
It had everything, sleuthing, action, darkness, humor, and Daniel Craig! What more could you want?
February 14, 2020
This movie started out a little slow, then got into the action. The movie always kept your excited! This was a GREAT movie and you should DEFINITELY go see ot! It will be sooooo worth it!! 👍🏼👍🏼👍🏼 Five stars all the way! 😁😁😁😁😁😁😁😄😁😁😁😄😄😄😄😁😁😁
February 11, 2020
This movie was excellent.
February 8, 2020
very slow and some problems with scenario around the main event.
February 5, 2020
Loved it!! All the actors did an incredibly job, was so exciting and really got me curious and wanting to watch it again! It had humour throughout and serious parts that just tied the movie together!!
February 3, 2020
Great performances by all actors and actresses!
February 2, 2020
Great story line and great acting.