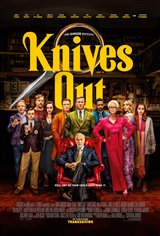 Knives Out
| 136 Reviews
Write a Review
In Theaters: November 27, 2019
On DVD/Blu-ray: February 25, 2020
4.03/5
Based on 368 votes and 136 reviews.
Please rate between 1 to 5 stars
Showing 1-10 of 136 reviews
April 12, 2020
Thankfully I rented this - $6.99 and didnt kill an evening travelling to a theater. I watched to the end but found the story weak, Daniel Craig's accent odd, character development non existent. Who directed this? Too many scenes looked like they were shot by a guy with a camcorder with a burned out light.
April 12, 2020
Contrived and so unbelieveably stupid you will not be able to follow. But if I am wrong and you can follow, then God help you. Reminds me of a made for TV fluff ... so why all the expensive talent? Who lost their minds to finance this crap?
April 12, 2020
Stupid movie. I hated it. Star studded cast couldn't save this lame, meandering who dunnit or who cares if no one didit. BORE and UTTER pointless. I suspect the motive to produce this would have been primarily for the promotion of tax credits, fake business losses, otherwise what would be the point?
March 2, 2020
Fell asleep watching this. Could have had a nap at home for free.
March 1, 2020
I can see why this went through production hell and found it ridiculous it was way to dry and didn't stay on point
March 1, 2020
Exceptionally written, acted and HYSTERICAL! Loved how unpredictable it was, will see again
March 1, 2020
Epic story! Loved it! Really enjoyed this movie .. this is a winner! Films that get awards for best this and that. . I don't know what it is, but I find them extremely dull. Love Jamie Lee Curtis! She's the best!
February 28, 2020
very good movie indeed. nice change of pace, to all the other crap out there! just watched it online for under $6.00 .on cineplex store
February 24, 2020
Great movie!
February 22, 2020
Fantastic!!! Johnson is clearly a talented film maker. Excellent screenplay! Deserved the Oscar nomination!