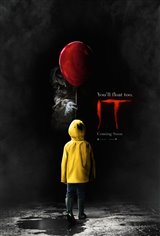 IT
324 Reviews
|
Write a Review
In Theaters: September 8, 2017
On DVD/Blu-ray: January 9, 2018
3.25/5
Based on 1458 votes and 324 reviews.
50.20%

6.30%

1.63%

1.83%

40.04%
Please rate between 1 to 5 stars
Showing 21-30 of 324 reviews
November 6, 2017
Great movie I recommend to everyone
November 2, 2017
This is the most profitable low budget movie that has ever been made just because of those 5-stars reviews. Not because this is a good one.
November 1, 2017
I think was a good movie. A classic one.
November 1, 2017
How the movie was made and just in general the movie was great
November 1, 2017
I liked that movie a lot me and my friends had a fun time watching it and screaming when we were scared.... So all these other people spreading negative rates and saying "there money wasn't well spent". Come on now this is a great movie all around.🤡🤙🏼🤗
October 31, 2017
Must put 5-stars.
October 31, 2017
I really liked this movie.
October 28, 2017
you either love or hate this movie and i totally loved it!!!
October 27, 2017
The most profitable movie made. Why? All 5-stars!
October 27, 2017
Ok, I dislike paying to see a horrow movie. I'd rather rent it for like $5 and watch in the comfort of my own home. My wife likes to 'watch' horror movies (and by 'watch', I mean bury her head in my arm), but I mostly find that the movies aren't really scary. We watched the original IT a couple weeks ago and I thought this is silly, I can handle the new one. I was wrong. Genuine scares. They say if you are scared of heights, try skydiving to overcome your fear. I'm scared of clowns and this did NOT help! It's intensified.