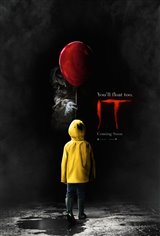 IT
325 Reviews
|
Write a Review
In Theaters: September 8, 2017
On DVD/Blu-ray: January 9, 2018
3.24/5
Based on 1460 votes and 325 reviews.
50.10%

6.29%

1.62%

1.83%

40.16%
Please rate between 1 to 5 stars
Showing 321-325 of 325 reviews
September 8, 2017
Not that scary. Have seen ones like this before. Boring
September 7, 2017
With a blend of great young stars and a freshly scary tone IT is the perfects example what horror movies should be doing.
September 7, 2017
King has lost it. These short movies that rattle around with so many lose parts are distracting from the good movies he once help create. The only thing that will help this movie is the impending arrival of Halloween. Hitchcock sold more fear with a camera angle than a recent King movie can do with 70 years of new technology. Over the top, badly directed, and weak story once again. May as well cast the ghostbuster girls in the next crapapalooza, because this franchise is done.
September 5, 2017
HEY MOVIE FANS . BY THE WAY THANKYOU VERY MUCH YOU SEND A WORD FOR ME PLEASE . AND I WILL KEEP TO YOUR WORD AT ALL THE TIME TOO. AND THANK YOU VERY MUCH FOR ALL OF YOUR COMMONS TOO AND HAVE A NICE DAY . HEY PLEASE TELL ME HOW GOOD IT THAT HORROR MOVIE TOO AND I NEED TO KNOW TOO. AND THANYOU VERY MUCH.
March 29, 2017
IT THIS MOVIE POSTER IS VERY SCARY. BUT I WILL SEE THIS MOVIE IN THE CINEMA. AND ALSO IS ANY FANS HAVE ANY WORD ABOVE THIS MOVIE IT . PLEASE WRITE THEM FOR ME HAPPY TO SEE HOW YOU FEEL THIS HORROR MOVIE IT TOO AND THANK YOU VERY MUCH AND I WANT TO LET YOU KNOW WHY I GIVE THIS HORROR MOVIE ABOUT 5 STARS TOO.