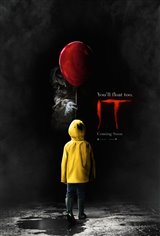 IT
| 325 Reviews
Write a Review
In Theaters: September 8, 2017
On DVD/Blu-ray: January 9, 2018
3.24/5
Based on 1460 votes and 325 reviews.
Please rate between 1 to 5 stars
Showing 1-10 of 325 reviews
June 6, 2022
Lame lame lame movie adaptation of Stephen King's bloated and boring doorstop novel (which was creepy for all the wrong reasons. You a pedo, Mr. King?) Not scary at all. Poorly written. It might scare kids who are especially timid.
March 9, 2020
i loved EVERYTHING
September 23, 2019
If anything, this is even worse than the cheesy tv movie from 1990, and I didn't think that was possible. Trash!
September 3, 2019
Lacked the magic of the original film. The casting of the kids in the original was, of course, almost impossible to top but the fear elements were lacking in the new version. Consider what they tried for scares here versus the original when Pennywise comes climbing out of a drain pipe when a kid is taking a shower - I mean for years after seeing that I never saw a drain shower in the bathroom the same.
September 4, 2018
Lame horror tale about an evil supernatural clown who likes to photo-bomb historical photos when he's not killing children. Not scary and too bombastic, this film wisely drops some of the more ridiculous elements from King's wildly overpraised novel, but it's still a mess. This truly belongs in the sewer.
July 7, 2018
Pretty damn lame. They should have added an 'S' and an 'H' to the front of the title. Everyone tries hard, but the problem is the bloated and ridiculously bombastic source material. Let's please stop fawning over the supposed genius of Stephen King. He was a capable writer early in his career, but the more praise he received, the less talented he became. His novel IT was needlessly overlong, pretentious, and further marred by narrative indulgences that don't go anywhere. A satisfying adaptation of this poor novel may not be possible.
April 8, 2018
LOVED it. Way different from the first, a real scare.
January 26, 2018
ok for all the people who are like oh this wasnt in the mini series or book ya because this is a remake not the exact same movie just like the new iphone
January 26, 2018
i loved how in the movie pennywise looked a lot scarier then the mini series pennywise if i saw tat clown in a sewer or a dark alley way i would be like NOPE NOPE NOPE IM OUTTA HERE!! but if i saw the mini series pennywise i would be like ahhh are you lost? do you need to find your birthday party? il help you! not to mention i know the mini series pennywise wouldnt hurt me cause cmon lets be honest pretty much everytime pennywise saw a kid in this film he didnt even hurt them! the pennywise from the movie scared them a little bit then tried to kill them for the rest of the movie
January 12, 2018
Clowns. I like the original movie better. The clown was overacted.