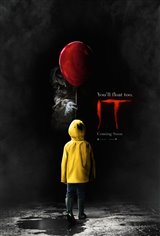 IT
| 325 Reviews
Write a Review
In Theaters: September 8, 2017
On DVD/Blu-ray: January 9, 2018
3.24/5
Based on 1460 votes and 325 reviews.
Please rate between 1 to 5 stars
Showing 241-250 of 325 reviews
September 27, 2017
Very disappointing. Boring, no scares. Just a bunch of 13 year olds running around swearing and screaming. They sure promoted it well though. LOL
September 27, 2017
I thought the movie was well done as I jumped out of my seat a few times!
September 26, 2017
I totally agree with the review below. NOT a good movie NOT scary at all NOT enjoyable!!!!!!!!!!!!!!!!!!
September 26, 2017
I walked out from the cinema in 45 minutes as I don't want to waste any more of my time (although I waste my money already) watching a group of kids running around and try to pretend that they are scared of something which is totally a childish story. OMG, how can they made up so many 5-star reviews to scam the people? It is really insane!
September 26, 2017
Not a good movie, I don't regret the money spent as much as I do the time wasted. Annoying characters and no scares made IT hardly enjoyable.
September 26, 2017
Loved the mini series, but loved this more. Definitely worth the money
September 26, 2017
Excellent movie.....I really enjoyed it. I can't wait for Chapter 2 to come out in 2019. It is a lot better then the mini-series.
September 24, 2017
I agree with one the review saying "The worst movie of the year"
September 24, 2017
Money is too easy to make, get a few kids and put them in a what they call scary movie and posted hundreds of 5-stars reviews and bullshitting that "they are scary", "story is good", "I love it", "you should go and see it", "the best movie ever", "my 22 years old daughter saying it is good" ............. But the truth is I have been scammed by all these false reviews and end up wasting my time and money. If you ask me again what to do, BE SMART, DON'T TRUST ANYTHING IF SOMEONE KEEP SAYING THIS IS GOOD.
September 24, 2017
I really liked it. I went with some friends had a great time. I think its more aimed at the teenage viewers.