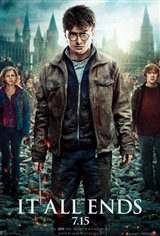 Harry Potter and the Deathly Hallows: Part 2
4.15/5
Based on 1692 votes and 403 reviews.
Please rate between 1 to 5 stars
Showing 41-50 of 403 reviews
November 7, 2011
As sad as I was to see the decade of Harry Potter come to an end, I must say this was the best way of doing it. I was completely impressed form start to finish.
November 7, 2011
Amazing movie!!!
November 7, 2011
An very good tying up of the story-lines that were introduced throughout the franchise. A little more development of the relationship between Harry Potter and Draco Malfoy. There seemed to be certain holes in the fabric of the plot between some of Valdemort's followers and those against him, and the duplicity, on either side.
November 7, 2011
Great Movie, would recommend to all my friends
November 7, 2011
i loved this movie sad to see it come to an end but it was full of action, it left you on the edge of your seat in some parts, it showed the romantic parts as well as the characters have grown together.and i really liked how it showed them all grown up and with families of their own
November 7, 2011
I thought i was a brilliant end to a historical saga. I cried and i laughed. Well worth every minute of it. I highly recommend
November 7, 2011
I thought that this movie was just perfect they tied everything up kept you wondering it was amazing i loved it i went and saw it twice in theaters and will be buying it when its out on dvd
November 7, 2011
Very good movie.
November 6, 2011
Wondrous.
November 6, 2011
Enjoyed it!