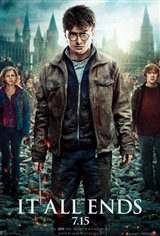 Harry Potter and the Deathly Hallows: Part 2
403 Reviews
|
Write a Review
In Theaters: July 15, 2011
PG-13 | Action, Adventure, Fantasy, Science-Fiction | 2h 10m
4.15/5
Based on 1692 votes and 403 reviews.
59.38%

21.98%

4.32%

2.96%

11.36%
Please rate between 1 to 5 stars
Showing 21-30 of 403 reviews
November 10, 2011
just ok
November 9, 2011
Three hours of my life I'll never get back. :(
November 9, 2011
Theres definitely another one!! Cant wait to see it!!
November 9, 2011
LOVED the movie until the ending, then I got disappointed. However overall it's the best harry potter movie of the series! BY FAR! It was tense and fast-moving from the very first second!
November 9, 2011
very stong spell binding, moving touching a very moving ending to a very great book and story thank you
November 9, 2011
I loved these last few movies. These movies finally gave JK Rowling's books justice. My only problem with this film is that there were some lines that were in the movie for comic relief, but they did not suit the tone of the scene. Otherwise great film! :)
November 9, 2011
Really well done for the wrap-up of the saga. The effects were entrancing and the scenes were done to the maximum effect of keeping you on the edge of your seat - even if you were an avid fan of the books and were already aware of the ending. Well done.
November 9, 2011
another excellent movie..well done.
November 9, 2011
love the harry potter movies!
November 9, 2011
Not the best of the series but excellent none the less! Defiantly an entertaining watch for all the fans.