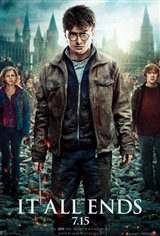 Harry Potter and the Deathly Hallows: Part 2
403 Reviews
|
Write a Review
In Theaters: July 15, 2011
PG-13 | Action, Adventure, Fantasy, Science-Fiction | 2h 10m
4.15/5
Based on 1692 votes and 403 reviews.
59.38%

21.98%

4.32%

2.96%

11.36%
Please rate between 1 to 5 stars
Showing 31-40 of 403 reviews
November 9, 2011
Great ending to a great story. The ending where harry and the rest send their own kids to school was good and touching.
November 9, 2011
The funniest movie since Ghostbusters II.
November 8, 2011
Very good film
November 8, 2011
Wasn't expecting it to be that great compared to the book but I love it right from the beginning
November 8, 2011
amazing!
November 8, 2011
A great ending to a great 10 years of Harry Potter. I didn't want it to end becuase it was just fantastic writing and you could see by the acting that the actors didn't want to stop either. Great series and hope the next one is even better!
November 8, 2011
Alright, but not as good as the book.
November 8, 2011
Definitely the perfect ending to the 10 year old series. The trio have actually learned to act together over the past 2 movies and their skills have to be admired. Keeping the movie as close to the book as possible was the best the franchise could do for its avid fans.
November 7, 2011
Probably the best Harry Potter movie and a fantastic way to end the series.
November 7, 2011
Amazing> I really like the way they tied it all in> I was worried we wouldn't see any cut scenes with snape at the end. 10 thumbs up!the