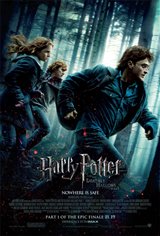 Harry Potter and the Deathly Hallows: Part 1
848 Reviews
|
Write a Review
In Theaters: November 19, 2010
PG-13 | Action, Adventure, Fantasy, Drama, Other, Sci-Fi | 2h 26m
4.03/5
Based on 2788 votes and 848 reviews.
48.56%

27.86%

8.28%

8.94%

6.37%
Please rate between 1 to 5 stars
Showing 41-50 of 848 reviews
March 14, 2011
This it the best yet. Far Superior than the last one. Kept continuity from the book and the special effects from all but the last movie. Well done.
March 13, 2011
Loved it! Can't wait for the rest.
March 11, 2011
My daughter and I really enjoyed this movie. It had quite a bit of action and left you wanting to see the next one.
March 10, 2011
B-O-R-I-N-G
March 10, 2011
I loved the movie. I can't wait to see the ending.
March 10, 2011
Awesome! Riveting! Leaves you wanting more!
March 9, 2011
Loved it!! Another great adaptation from the book. Even tho it is a 2 parter the ending felt like a proper ending. Can NOT wait until July for Part 2!
March 9, 2011
I think the show was well done, it was just hard for it not to end. Looking forward to part two. There were several parts missing from the book, but I guess it can not be all included or it would be more than two parts.
March 9, 2011
Awesome! Can't wait for part 2.
March 4, 2011
Another great adaptation of the book, can't wait to see the 2nd part